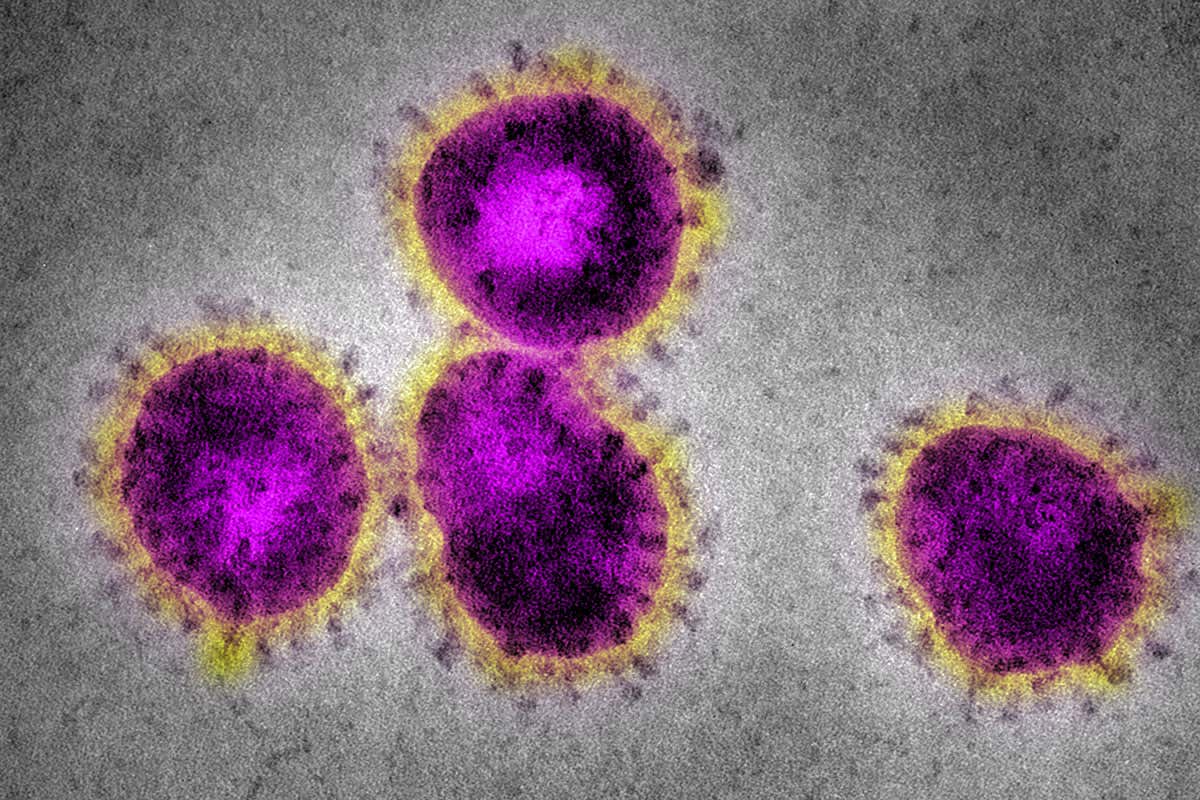 "Coronavirus" is the generic name of a category of viruses that are shaped like a "crown" ("corona" in Latin).
Technically, COVID-19 is the name of the disease. SARS-2-CoV is the name of the virus itself. I'll refer to the virus as Coronavirus or SARS-2-CoV interchangeably.
This Coronavirus is a positive-sense single-strand enveloped RNA virus.
COVID-19 is the result of a 'zoonotic' infection, meaning the virus jumped species from an animal to humans. In fact, SARS-2-CoV shares a most recent common ancestor with a bat coronavirus.
The median incubation period (that is the time between infection and onset of symptoms) for the Coronavirus is estimated to be 5.1 days (95% CI, 4.5 to 5.8 days), and 97.5% of those who develop symptoms will do so within 11.5 days (CI, 8.2 to 15.6 days) of infection. Source.
The fatality rate of the Coronavirus is still uncertain due to the lack of global testing, although it could be as high as 6%, especially where there is a spike of infections and hospitals are overwhelmed.
How does it infect humans?
An infected individual ejects little droplets of saliva containing virus cells when talking, singing, coughing or just breathing. The viral cells can survive in the air for up to 3 hours.
When another person inhales the airborne virus cells, the spikes protruding from the surface of the viral cells bind to receptors on human cells called ACE2, and then the viral and human cells membranes fuse together.
This process starts in the mucose inside your nose and mouth. From there, the viral cells rapidly replicate and spread to the throat and, finally the lungs.
What makes the Coronavirus so dangerous?
Unlike SARS and MERS, the Coronavirus is highly infectious BEFORE carriers show any symptoms. You may feel totally fine, go to a public place and infect hundreds.
You don't even need to cough, just breathing near someone may infect them.
You only see stats of people who have been tested. The US hasn't been testing, so it's likely A LOT of people in your community are already infected.
What kind of damage does the Coronavirus do?
The Coronavirus causes a bilateral interstitial pneumonia. Lesions appear in the lungs, predominantly in peripheral areas of the lower lungs, with concentrated 'hotspots'. The virus attacks the alveolii, which are the small pits within your lungs that collect oxygen from the air you breathe and then transmit it to your blood.
When the alveolii are damaged, you basically can't oxygenate your blood anymore. This is why severe cases of the Coronavirus require ventilators, and sometimes even intubation. Doctors supply oxygen directly to the patient while they wait for the illness to make its course.
This is why the number of ventilators and ICU hospital beds is critical in fighting this illness, and why you should do whatever you can to avoid getting sick.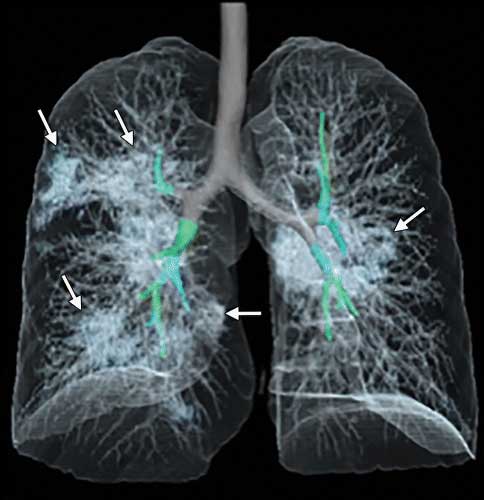 The damage caused by COVID-19 is peculiar and distinctive enough that most radiologists are able to identify it from chest CT scans. More info:
Compared to non-COVID-19 pneumonia, COVID-19 pneumonia was more likely to have a peripheral distribution (80% vs. 57%, p<0.001), ground-glass opacity (91% vs. 68%, p<0.001), fine reticular opacity (56% vs. 22%, p<0.001), and vascular thickening (59% vs. 22%, p<0.001), but less likely to have a central+peripheral distribution (14.% vs. 35%, p<0.001), pleural effusion (4.1 vs. 39%, p<0.001) and lymphadenopathy (2.7% vs. 10.2%, p<0.001).

excerpt from this study https://pubs.rsna.org/doi/10.1148/radiol.2020200823
Does the Coronavirus affect only old people?
This is a common misconception, probably due to the fact that most of the early deaths and tests were skewed towards that particular demographic.
While obviously the virus will impact immunodeficient people harder, the correlation between the age of the patients and the severity of the infection is widely disputed.
There are accounts of severe cases in healthy people as young as 19 years old. Even a 4 year old was diagnosed with COVID-19 (Italian).
Early studies are showing that the severity of the disease does not seem to correlate with the age of the patient, but with the viral load. It is however true that younger people have much higher chances to recover even if they develop interstitial pneumonia.
"Architectural distortion, traction bronchiectasis, and pleural effusions, which may reflect the viral load and virulence of Covid-19, were statistically different between the two groups and may help us to identify the emergency type disease."

Wei Zhao and Zheng Zhong Source
What can we do to stop it?
Thus far, there's no stopping the virus. All you can do is delay contagion, allowing the healthcare system in your country to cope with the amount of people who are concurrently sick at any given time.
How to avoid contagion?
There are a few simple ways to avoid contracting the Coronavirus:
Social Distancing
The first and most effective method to keep the Coronavirus at bay is to practice social distancing. That means STAY HOME unless you absolutely have to be outside.
When you're outside (for critical reasons such as getting groceries), try to stay away from other people (the farther the better, but never get closer than 3 ft from someone else).
Wash Your Hands Well
Wash your hands very well and for an appropriate amount of time (sing "Happy Birthday" twice from start to finish, and you'll have washed your hands for the appropriate amount of time).
Follow the World Health Organization's instructions on how to properly wash your hands here.
Regular soap is preferable to "Antibacterial" soap. "Antibacterial" soap is not more effective at removing bacteria and viruses than regular soap, the additives may not be safe for humans, and it can actually cause the development of strains of bacteria that are more resistant to antibiotics, which is bad. Source
How to remove Coronavirus from surfaces?
Washing your hands properly and frequently is proven to be way more effective at avoiding getting sick than wiping down your house.
That said, the Coronavirus can last on surfaces up to 96 hrs (source), so disinfecting heavily touched locations in your house, such as light switches and door knobs can be helpful.
Different disinfectants have different effects on the Coronavirus. Thankfully the EPA has released a list of cleaning products and their efficacy in removing the SARS-2-CoV from surfaces.
BE CAREFUL: you can actually do more harm than good by introducing harmful chemicals in the air you breathe while cleaning (Quaternary ammonium, the active ingredient in a lot of disinfectant products has been shown to cause respiratory problems — the last thing you want when you're dealing with a pneumonia-inducing disease such as COVID-19).
The best cleaning products to remove the Coronavirus safely are ones that contain either Ethanol (i.e. Alcohol) at over 62% concentration, or Hydrogen Peroxide at over 0.5% concentration. These compounds are widespread, cheap and relatively safe to handle.
While I'm at it, here's a strong recommendation not to use Ammonia and Bleach on the same surface — they react to create chlorine gas, and it can gravely harm you.
What are the Coronavirus Symptoms?
The most common Coronavirus symptoms are as follows:
Fever
Dry Cough
Shortness of Breath
The onset symptom for most people is a fever.
Like with any illness, the symptoms of the Coronavirus vary from person to person. If you suspect you're infected, stay home, get rest and watch your temperature and symptoms closely.
You will soon be able to get tested at a nearby drive-through location. Check back here for a map with the closest location to you.
How long do the Coronavirus symptoms last?
In most mild cases, symptoms last less than 10 days.
How long after the onset of Coronavirus symptoms are people infectious?
A recent German study shows that after 8 days from the onset of symptoms, the scientists were unable to grow viruses from the patient's saliva. Meaning, you're likely not contagious anymore after about 8 days from when the symptoms first start. Source.
How to treat the Coronavirus?
If your symptoms are mild, you should self-isolate at home, drink plenty of fluids and get rest.
You can reduce your fever by taking Acetaminophen (Tylenol in the US, Paracetamol in Europe).
There are some credible reports that Ibuprofen (Advil in the US) can actually make the symptoms of the Coronavirus worse, so avoid it.
If you experience shortness of breath, or you hear strange noises when you breathe, consult your physician and ask about getting tested for the virus as soon as possible.